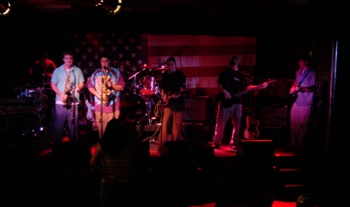 Download Music
for personal use only
Ron LaPorte - Ron has been on the music scene in southern New England for the past 10 years. He was the front man of Bush Boogie, a local jam band, for 2 years. Currently, he is the lead vocalist/rhythm guitar player for Fungus Amungus.

Tom Foley - Tom is the lead guitarist of the group. His influences include Robben Ford, Lucky Peterson and Huey Lewis. His blues/funk style and rip-roaring guitar leads always draw crowds to the dance floor.

Jarrod Valenti - Jarrod plays alto/tenor saxophones in the band. He is currently studying music at the University of Rhode Island, and previously he studied at James Madison University in Harrisonburg, Virginia. He has shared the stage with local acts such as Spogga, Sasquatch and the Sick-a-billies and the New Prophets.

Michael Sperduti - "Doodie" lays down the funky bass groove with Fungus Amungus. He has been playing around the Providence scene for the past 8 years. His influences include Les Claypool and Mike Gordon.

Joe Jannerelli - Joe's versatile drum style is the backbone of the band. He was the recipient of the Louie Armstrong Jazz award in his hometown, and he currently teaches drum lessons for Rick's Music World in Seekonk, Massachusetts. His funky rhythm is the glue that holds the group together on stage.
About Stock and Roll ◦ Freeloader ◦ S&R Artists ◦ S&R TV ◦ News ◦ S&R Press ◦ Board of Advisers
President's Message ◦ Participate ◦ Contact ◦ Friends ◦ Home
© Copyright 2008 - STOCK AND ROLL®